Palette Generator – A free tool to create thermal palettes for FLIR Tools.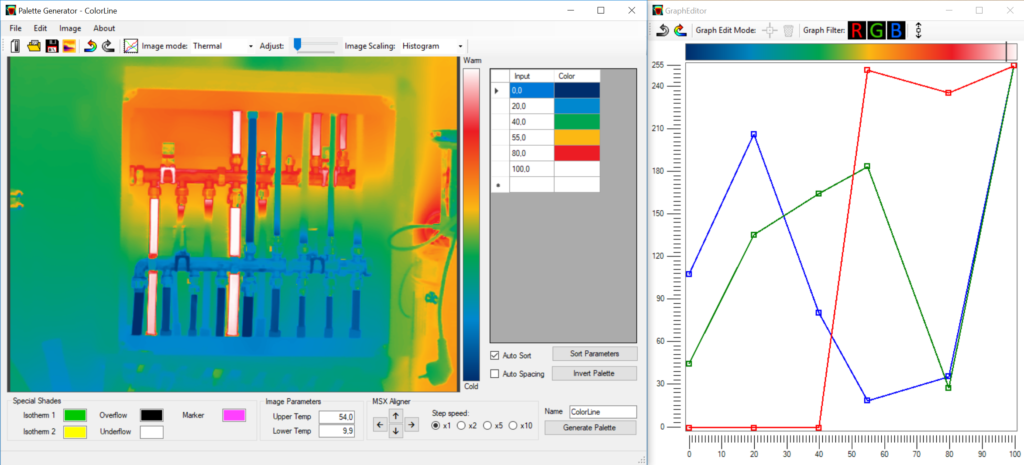 The Palette Generator is a thermal tool to create custom color palettes for FLIR Tools. The palettes can be designed by adding colors and by modifying the RGB channels in the Graph Editor tool. The palette is the then exported to FLIR Tools for use in the program.
FUNCTIONS
– Add, change and remove colors
– Modify the red, green and blue color channels
– Open and save radiometric image
– Save image as PNG, BMP and JPEG
– Export palette to FLIR Tools
– MSX Aligner
– Graph Editor
– Import palette from palette file (.pal)
– Import palette from radiometric image
– Import CSV image
– Undo/redo functionality
Click here to download Palette Generator.
System requrements:
– Windows 7, 8 or 10
-.NET Framework 4
NOTE:
The software is automatically checking for updates when the program is closed, and will be updated on the next launch.
LICENSE AGREEMENT
This program is a freeware and to be used "as is" by anyone. This program can be used in any situation, but is not to be sold or been charged for. Developer of this program is not to be claimed for any missing functions, errors or any problems that may occur when using this software. If problems occur, please report issues according to section 8 Error Reporting in the user manual. If disapproval of these terms, do not use this program. The license agreement can be changed by software creator.